Client Satisfaction
Survey Winners
Four Lucky Clients
Won Gift Baskets
Last December Interlink sent out our annual
survey to all of our clients. This survey is
used to measure how we did throughout
the past year as well as let us know how
we can improve our services. We also use
it to learn more about the valley's elders
and the resources they need to prosper.
Our clients who returned their survey by
January 15 were eligible for a drawing for
four gift baskets. Executive Director,
Mark Havens and Program Specialist, Jackie Wahl
presented the gift baskets. This year's winners are
Donna Courtney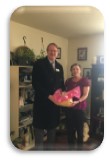 DJ Ludwig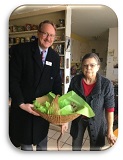 Del Pizzuto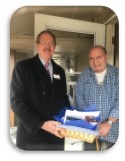 Marnetta Shrader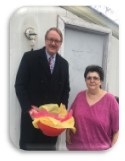 A Great Silver Rush
Reframing Aging as a
Nonprofit Resource
Interlink's Operations and Volunteer
Manager, L. Eugene Beauchamp
gave a great speech at the Idaho
Nonprofit Center Annual Conference
on March 9, 2023. He spoke about
the increasing aging population
in the LC Valley and the need for all
nonprofits to recruit retired volunteers
to help meet their specific needs.