In 2017, Interlink volunteers built or rebuilt 22 ramps in Asotin and Nez Perce counties.
In 2017, Interlink volunteers gave 8,696 hours to help our elders and those with disabilities.
Interlink's volunteer drivers gave 6,598 rides in 2017!
We Are Here For You
We provide rides, small household repairs,and build ramps for elders and those with disabilities who live in Asotin County, WA or Nez Perce County, ID. There is never a charge for our services.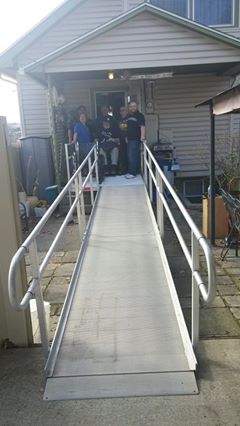 Our Volunteers Speak Out!
Why do you volunteer for Interlink?
To help people, and it's fun to get out, especially to for people who need help.
What do you enjoy most about volunteering at Interlink?
"I love to meet the people who ride with me. These are wise, elderly folks mostly, who have so much wisdom and it's just a joy to hear their stories and sometimes it's a little heart-wrenching cause they have some medical challenges but I just really enjoy meeting them and helping them."
If there is anything you could change or do to improve interlink, what would it be?
"I don't know, we are always looking for more volunteers, and the more volunteers we have means the more flexible we are and quicker we can get the jobs done"
What do you enjoy most about volunteering for Interlink?
"I enjoy the people the most. Just some absolutely wonderful people and the stories they tell you about where they came from, what they have done, and what the still hope to do. One thing you find as you get older is you don't feel old. When I was a kid, 70 sounded ancient, now it's not.
How long have you been a volunteer for Interlink?
"I began with Interlink when they began 33 years ago. I was at church and they had this presentation of this new organization in town called Interlink Volunteers, and my buddy, Jerry, and I signed up and started by doing a little handyman things; repairing things, raking yards, scrubbing carpets. Over the years I have been MC for their Christmas Concert, which has now evolved into something else, and then I became the director in 2004 and then I retired in 2016."
Ray continues to volunteer at Interlink as a driver!
What is your favorite part about volunteering for Interlink?
"I enjoy meeting the people. I enjoy seeing them, sometimes somebody I know or people that know a lot of people I know and just visiting with them and having the opportunity to help them out for a few minutes each time I drive."
What do you do as an Interlink volunteer?
"Well, there's two things. One is that I used to drive for interlink volunteers and now I have been on the board of directors for quite a while and I do a lot of promoting when I'm out in the public and if I see a need for someone that needs a wheelchair ramp or if somebody is having trouble needing a ride I let them know about Interlink. One of the things I have enjoyed doing is working with the Ultimate Christmas Concert and going forward with that event."
What do you enjoy most about volunteering for Interlink?
"Visiting with the clients and giving them an outlet to talk to if they want to."
How did you come to volunteer at Interlink?
I was recently looking for volunteer hours in the community. It was suggested that I check out Interlink so I dropped in to see what was available. I was thrilled to find out I could put my degree to work and help with this newsletter. I also signed up to provide transportation for those who do not drive.